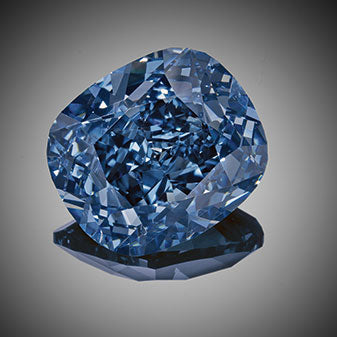 The Blue Moon diamond, named after its rarity, is an extraordinary 12.03 carat internally flawless cushion cut diamond. Its vivid blue color is the rarest amongst blue diamonds. It also displays a strong red phosphorescence when exposed to ultraviolet light, just like the Hope diamond.
The Blue Moon comes from a 29.6 carat stone found in the historic Cullinan mine, in South Africa, in January 2014. It is one of the rarest gems in this size and with this color to be found in recent history.
It was sold in 2015 in Geneva for $48,46 million  (more than $4 million per carat!) and became the most expensive gem ever sold in an auction. It also set a record for the highest price per carat in history.