At the age of 15, Arthur Langerman started his training in a diamond-cutting workshop in Antwerp, Belgium, where he learned about the various stages of diamond production. After several years of apprenticeship, he set up his own business and became, in turn, a diamond manufacturer.
The natural color diamond has always been Arthur Langerman's true passion.
He was drawn to their subtlety and infinite chromatic variety, and in parallel with his classic training as a diamond merchant, he specialized in the extremely skilled art of cutting these particular stones. "People tried to discourage me from dealing with these strange—and this was the perception at the time—worthless stones. But I couldn't let them go," he recalls.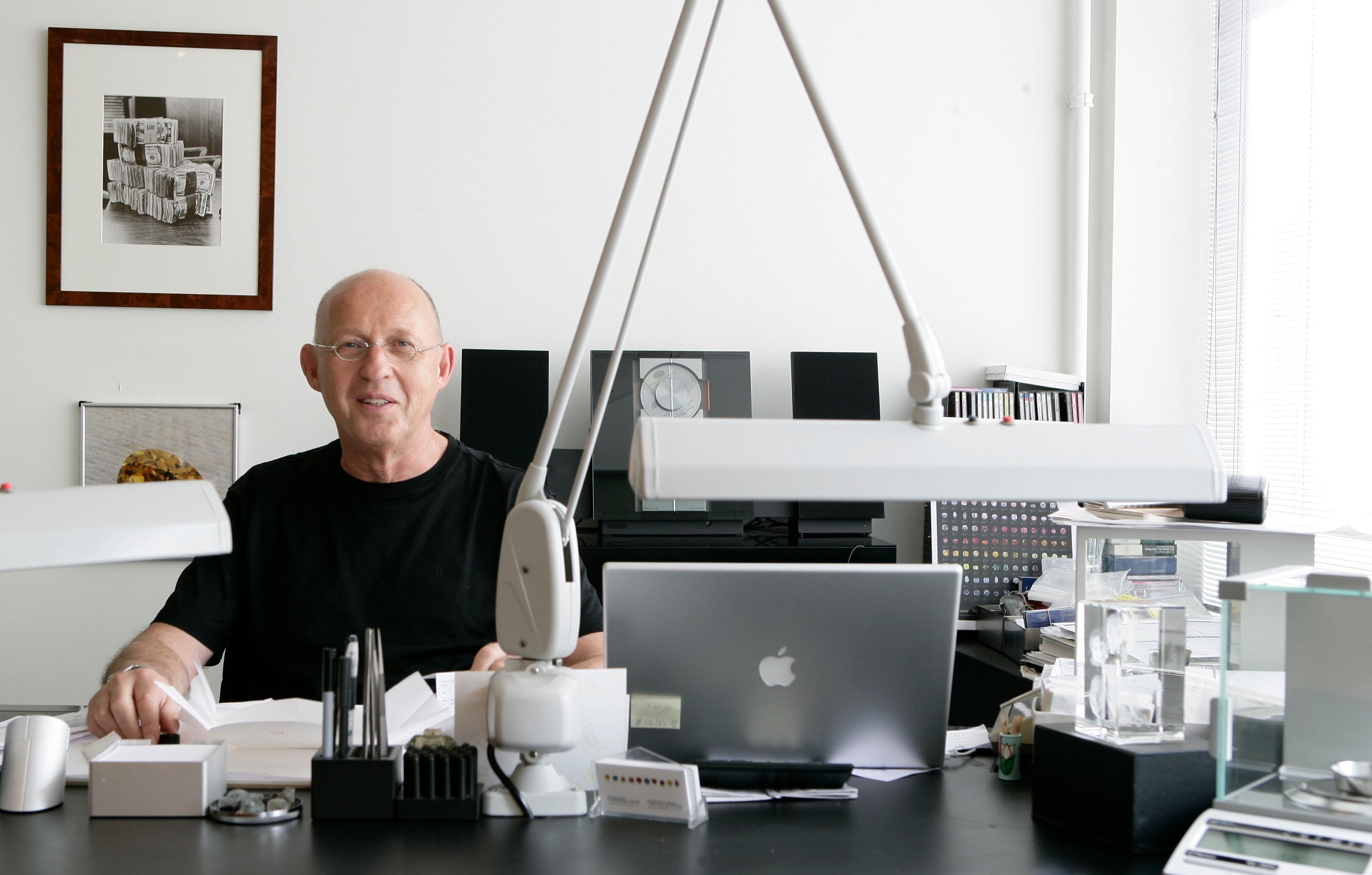 A Passion Turned into a Successful Business
Arthur became a pioneer in the field and has devoted much effort to educating traders and the general public about the beauty and value of natural color diamonds. For over 50 years now, the gentleman known as the "Colorman" of the diamond has worked tirelessly to build a collection, encompassing tens of thousands of natural color diamonds of all hues, qualities, shapes and sizes. His private collection is regularly exhibited at the most prestigious venues and museums, such as the exhibition "Carat, Couleur & Création" at the Cinquantenaire Museum in Brussels in 1991, and the "Diamanti" exhibition in Rome in 2001. Langerman Diamonds owns the largest stock of natural color diamonds in the world.
Although this particular passion placed him, for many years, on the fringes of the diamond trade, he is today recognized as one of the world's leading specialists in the field, and is considered by his colleagues as well as by the world's leading jewelers as the reference on natural color diamonds. Examples of clients who trust his expertise and the quality of his services for numerous years are Van Cleef & Arpels, Boodles & Dunthorne, and Louis Vuitton.
Arthur Langerman is a member of the three Antwerp Diamond exchanges, and is an Expert for the Belgian Royal Family.
Making an Extraordinary Collection Available Worldwide, Online.
Natural color diamonds nevertheless remain a mystery to many today. To display a representative selection of our stock, and to work with clients across the world, we were the first to create www.langerman-diamonds.com—a website devoted exclusively to natural color diamonds. Our website focuses exclusively on natural color diamonds and demonstrates that these beautiful stones are available for every budget and jewelry project.
Our vast inventory including over 300 colors of all shapes, sizes and qualities, can meet every taste or preference, and includes the most beautiful and rare color diamonds ever found. This allows us to satisfy a wide range of requests: from the most difficult and exclusive orders for rare diamonds, or hundreds of color-matched series in sizes starting from 0.01 ct, to a request for individual stones starting at just $150. Langerman Diamonds is also one of the very few websites in the world to offer rough diamonds for sale, which has become increasingly popular for custom made jewellery.
Sharing Over 50 Years of Knowledge
The Natural Color Diamond Encyclopedia was created to educate professionals and the general public about the fascinating universe of natural color diamonds. It is the first online encyclopedia devoted to natural color diamonds, and the success was immediate after its launch in 2005. The Encyclopedia has received a number of awards and was featured by media such as MSN and USA Today, praising the quality and comprehensiveness of its content and presentation, which makes it accessible to both professionals of the diamond trade, as well as a public curious to discover more about these unique and rare stones.
In our Bookstore, you'll discover the book we collaborated on with Graff, written by Marijan Dundek. It covers the basic knowledge of diamonds and the diamond industry, as well as information about the main factors which determine the value and quality of a diamond. A whole chapter with stunning full-color photographs is dedicated to showing the remarkable variety and beauty of natural color diamonds.
The Langerman family has made excellent and personalized service for each client their first priority. We take all requests seriously, no matter the amount, and no matter how much work it takes to find that perfect diamond, that unique color you're after.
This devotion to service has resulted in a 99% satisfaction rating, and a wide circle of clients who trust Langerman Diamonds for their most precious purchases.

Chat with us now, to discuss your next project and access the Langerman collection of natural fancy color diamonds.