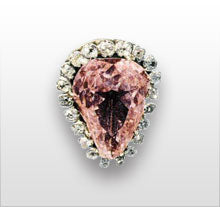 The Condé (or Grand Condé) is a fancy pink diamond, cut in the form of a pear, weighing 9.01 carats.
The family of the Condé princes was one of the most important branches of the French house of Bourbon. One of its best-known members, Louis II (1621-1686), also called "the Grand Condé", was already governor of the Bourgogne region at age 17. It is under his command that the French beat Spain in 1634 during the battle of Rocroi, which brought to an end the Thirty-year war.
After having won France several victories, particularly Nördlingen (1645), Dunkirk (1646) and Lens (1648), Condé rebelled and placed himself under the service of Spain. In 1660, he was pardoned and regained his place at Chantilly (France). It's just after the battle of Rocroi that Louis XIII gave Louis II this beautiful diamond, probably in recognition of the services he had rendered.
In 1886, the Duke of Aumale, direct descendant of Condé, handed the stone over to the Institut de France, which has held it ever since.