For the last ten years, natural color diamonds have become increasingly popular. This mostly comes from the influence of international jet-setters, movie stars and singers. More and more, these trendsetters offer and wear impressive jewels with colored diamonds. Nowadays, most important events feature amazing stones and are widely relayed in the media and social networks.
Amongst others, networks like Pinterest have widely contributed to the democratization of natural color diamonds. Pictures quickly become viral, setting new trends overnight. Until recently, colored diamonds were a niche product and social networks have helped them to come out of a restricted market.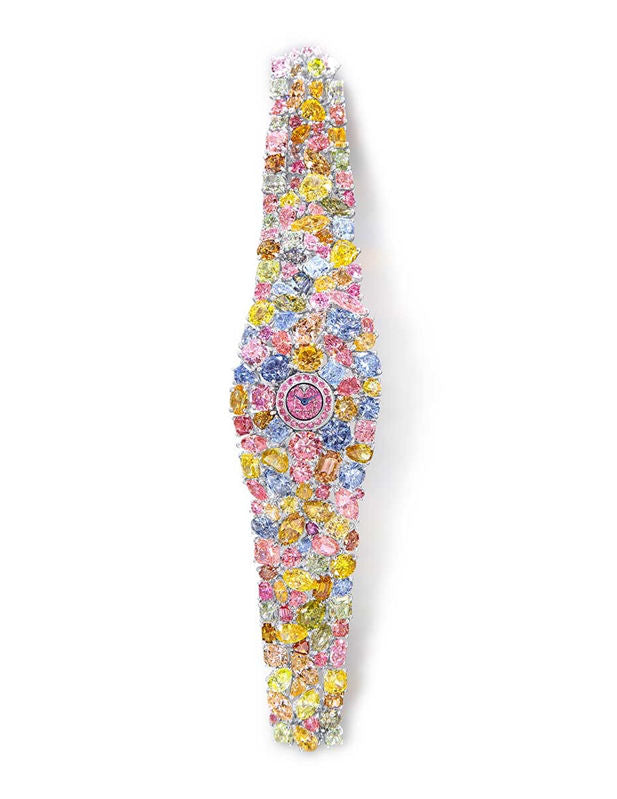 The Graff Hallucination Watch - A Multi-Colored Diamond Watch. Photo: Graff.
More and more jewels using natural color diamonds are seen in mainstream fashion magazines. The most popular colors are undeniably pink, yellow and blue. Yellow colored diamonds can now even be considered a classic, almost like colorless diamonds. As for the young independent designers, they tend to use diamonds of more unusual colors as they are more affordable and allow them to create truly original pieces.
As natural color diamonds are well known, less popular colors  are becoming trendy, since women now want to assert their own personality. Indeed, the 21st century is definitely a time of individualism and creativity. This is how orange and purple diamonds are much in demand.
As a consequence, natural colored diamonds sold at auctions reach rocket prices and make the news. As an example, the Oppenheimer Blue Diamond, an exceptionally clear Fancy vivid blue diamond weighing 14.62 carat, which belonged to the De Beers' heir, was sold for $ 57.5 million by Christie's in May 2016. A historic record that will probably be followed by even higher prices.