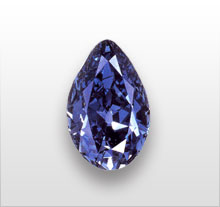 The Tereschenko is a blue, 42.92 carat, pear-shaped diamond. Like other fancy blues, the Tereschenko belongs to the rare group of Type IIb diamonds. It is not known where it was found: theoretically, it may have come from either the Kollur alluvial deposits in India or from the Premier Mine in South Africa. However, by 1913 the Premier Mine had been in existence for barely ten years and since there is no report of it having yielded such a rare and unusual gem, it must be assumed that the diamond is of Indian origin.
Its original owners were the Tereschenkos, a family of sugar magnates in pre-communist Russia. In 1915, Mikhail Tereschenko instructed Cartier to mount the gem as the centerpiece of a necklace containing a variety of fancy colored diamonds.
The jewel was unique in combining forty-six marquise, round, pear and heart-shaped diamonds ranging from 0.13 to 2.88 carats. Their colors were described as "jonquil, lemon, aquamarine, sultana-green, golden button, grey, blue, crevet, lilac, rose, old port, madeira and topaz."
As such, the necklace ranked among the most important creations of the century in fancy colored diamonds. In 1916, on the eve of the Russian Revolution, the Tereschenko Diamond was secretly taken out of Russia and passed into private ownership. The Tereschenko came up for sale in November 1984 at Christie's in Geneva, where it was purchased by Robert Mouawad, a Saudi diamond dealer, who set a new world record for the purchase price of a diamond.