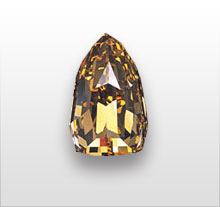 The Incomparable diamond was found in the 1980s, in the town of Mbuji Mayi in the Democratic Republic of Congo (formerly Zaire), by a young girl playing in a pile of rubble outside her uncle's house. This rubble had been legitimately collected from old mine dumps in the nearby MIBA Diamond Mine, having been rejected during the recovery process as being too bulky to be worth scanning for diamonds. The 890-carat rough stone was sold to De Beers and then purchased by Donald Zale, of Zale Corporation, a Dallas-based jewelry store chain, in partnership with Marvin Samuels, of the Premier Gems Corporation, and Louis Glick, both prominent figures in the New York diamond industry.
The job of overseeing the cutting was given to Mr. Samuels, renowned for his experience and expertise in the faceting of large diamonds. This diamond showed its fair share of problems, and four years were spent studying and then cutting the stone. The Incomparable was the largest gem cut from this stone, and was graded as a Shield-Shaped Step cut, 407.48-carat, fancy brownish-yellow, internally flawless diamond. It is the third largest diamond ever cut, after the Golden Jubilee and the Cullinan I, and measures 53.90 x 35.19 x 28.18 mm. Its unusual triangular shape elicited a new imaginary term from Marvin Samuels - a "triolette."
The rough stone however was not uniformly colored. In addition to the Incomparable, fourteen satellite gems were also cut from the rough, ranging in color from colorless to rich yellow with a slight brown overtone, and in size from 1.33 carats to 15.66 carats (this last gem is kite-shaped).
The Incomparable was unveiled on Zale Corporation's 75th anniversary in November 1984. Shortly afterwards it was put on display at the Natural History wing of the Smithsonian Institute in Washington DC. When it was auctioned in New York in 1988, it was the largest diamond ever offered to the public for sale. It was withdrawn after not reaching its $20 million reserve price, and was again withdrawn from sale for the same reason in November 2002, this time on eBay. Louis Glick is said to still own the stone today.