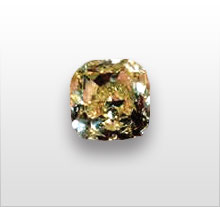 The Mouna diamond is a 112.53-carat, VS1 clarity, intense yellow diamond. As of November 1995, it was the largest fancy intense yellow diamond ever to have been graded by the Gemological Institute of America (GIA).
This cushion-shaped stone measures 26 mm in diameter and was set by Bulgari in a baguette-cut mount.
It was owned by Mouna Ayoub, the former wife of a Saudi Arabian businessman, before being sold by Christie's in Geneva for $3,258,000 in November 1998.