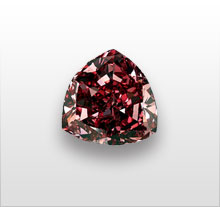 The William Goldberg Diamond Corporation, renowned for outstanding stones such as the Premier Rose and the Guinea Star, cut this 13.90-carat stone into a 5.11-carat triangular brilliant gem, sometimes referred to as a trillion or a trilliant.
As of the mid-1990s, the Moussaief Red diamond was the largest fancy red, natural color diamond to have been graded by the GIA.The Moussaief was purchased in 2001 or 2002 by Moussaieff Jewellers Ltd., a firm renowned for its multi-million dollar pieces of jewelry.
The Moussaief was exhibited in Rome at the "Diamanti" exposition in 2002, then paid a visit to the Smithsonian Museum in 2003 as part of the "The Splendour of Diamonds" exhibit, where it was displayed next to the Millennium Star, the Heart of Eternity, the Pumpkin diamond, the Allnatt diamond, the Ocean Dream, and the Steinmetz Pink.