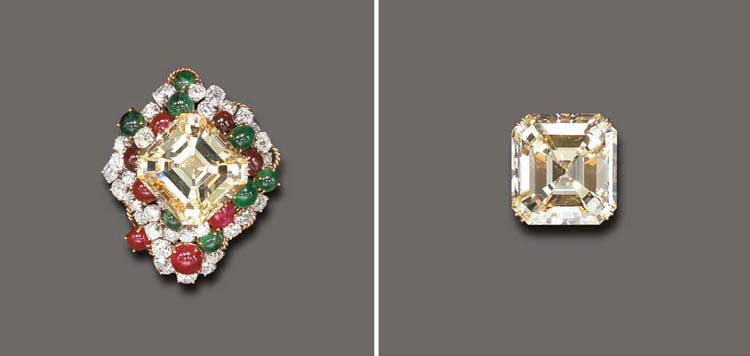 Photo: Christie's
The Porges diamond is a 78.53-carat, Asscher-cut, SI1 clarity yellow diamond It was purchased in 1962 by Harry Winston who gave it its name, as a tribute to the French diamond mining pioneer Jules Porges.
Jules Porges (1839-1921) came from a prominent Austro-Hungarian family. He settled in Paris where he quickly established himself as a principal force in the diamond trade, and invested in the mining rights of the four major South African mines (De Beers, Bultfontein, Dutoitspan, and Kimberley) when these were discovered. He became a close associate of Cecil Rhodes, and sold his shares to the De Beers firm before retiring in 1890.
Harry Winston mounted the stone so that it may be worn either as a brooch, within a frame set with cabochon-cut emeralds and rubies, or as a single stone, set within a simple ring mount. A first owner purchased it directly from Harry Winston in 1968. It was then sold at Christie's Magnificent Jewels sale of April 2004 for $769,000.