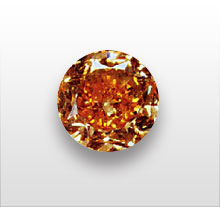 It was William Goldberg who cut and polished the famous Pumpkin diamond, a fancy vivid orange diamond with a finished weight of 5.54 carats, bought by Ronald Winston for $1.3 million.
Ronald Winston, along with Phillip Bloch, designed the now-famous ring in which it is set for Best Actress winner Halle Berry, who wore the ring to the 2002 Academy Awards.
It is the world's largest fancy vivid orange diamond, valued at just over $3 million.