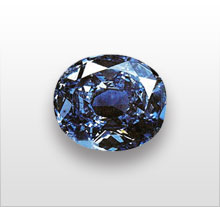 The Wittelsbach diamond weighs 35.5 carats and is entirely pure, aside from a few superficial scratches that were probably made when it was unset. It has a rare dark blue color and has over 50 facets, cut in an irregular fashion.
The first traces of the Wittelsbach date back to the second half of the 17th Century. Originally from India, this diamond is said to have been offered by Philip IV of Spain to his daughter Margareta Teresa, then aged 15, for her wedding to the Germanic Emperor Leopold I in 1664. One cannot go any further back, since all the documents relating to the history of the Wittelsbach prior to this were destroyed during the Spanish civil war, together with the Madrid archives, sometime between 1936 and 1939. The stone's name comes from the royal family of Bavaria, the Wittelsbach family, who owned it from 1722 to 1918.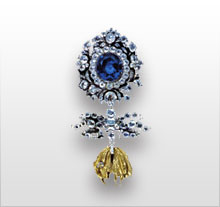 In 1962, a Belgian diamond dealer called Joseph Komkommer was asked to examine a dark blue stone with a view to having it re-cut, and recognized the stone after a disappearance of 30 years. The diamond was purchased by a consortium of Belgian and American diamond dealers and then resold, intact, to a private collector in 1964.