The Dresden Green diamond has a natural fancy green color, weighs almost 41 carats, has 58 facets and is cut in an irregular pear shape.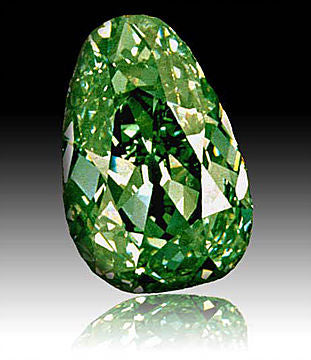 Photo: GIA
As a general rule, the reason why a diamond's color is green is that during its growth, the stone was submitted to radioactive rays - for example, alpha particles may have been present, albeit in tiny amounts, in the kimberlite. Over time, this radiation provokes the appearance of a very thin, superficial greenish layer that usually disappears during polishing. In other cases, bombardment by beta rays and neutrons can cause a profound modification in the diamond's color. Very green diamonds are extremely rare and the Dresden Green, named after the capital of Saxony where it was exhibited for almost two centuries, is certainly the most beautiful known specimen.
The first written trace of this diamond dates back to 1726: Baron Gautier, an evaluator in Dresden, refers in a letter to a green diamond that was proposed to King Frederic August I by a London merchant. Others say a Dutchman named Delles sold it to Frederic August II during a commercial fair in Leipzig in 1741. It is said that the rough stone was purchased in Golconde by the famous diamond merchant Marcus Moses, who would have had it cut in London shortly before 1741. Seized by the Soviets at the end of the Second World War, the Dresden Green was returned to the Germans in 1958. Today, it is kept in the Albertinum Museum in Dresden.