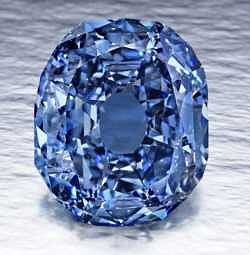 The upcoming 2011 jewelry auction season promises more record-breaking large diamonds and top fancy colored diamonds. Even as the world economy is still recovering from the economic crisis of 2008-9, it seems the wealthy cannot get enough of these stones. They helped Christie's and Sotheby's – which together account for nearly 90 percent of the top jewelry auction market – achieve record sales last year.




Christie's reported its jewelry sales at $429 million in 2010, easily topping the previous record of $395 million set in 2007. Sotheby's 2010 jewelry sales totaled $405 million, also a record. And the reach of this success was worldwide: Christie's reported that North America ($130.5 million), Hong Kong ($163 million) and Europe ($135.5 million) were all records, as well.

The 2011 season began in earnest and details of several major stones coming up for sale are circulating. For example, a GIA-graded 10.09-carat Fancy Vivid purple pink diamond is estimated to bring $15 million - nearly $1.5 million per carat. And, an unmounted 56.15-carat heart-shaped D color, Internally Flawless diamond, also graded by GIA, is expected to fetch between $9 million and $12 million.

When the financial crisis struck the world economy in the fall of 2008, the major auction houses, like every other business, pulled back to assess. As the crisis deepened in December 2008, however, the Wittelsbach Blue, then a 35.56-carat Fancy Deep grayish blue diamond, sold for $23.4 million at Christie's – the highest price ever paid for a diamond at auction.

After that sale, Christie's and Sotheby's have achieved near-record and record prices for top fancy colored and colorless diamonds at numerous sales around the world.




Examples of record-breaking diamonds include:




·                   A 24.78 carat Fancy Intense pink diamond that doubled the all-time record set by the Wittelsbach (November 2010)

        

·                   A 5 carat Fancy Vivid pink diamond that set a per carat record price of $2.1 million (October 2009)

        ·                   A square-cut 32.01 carat D Internally flawless that established a record per-carat price of $240,000 for a colorless diamond (October 2009)

        

·                   And, a 24.78 carat Fancy Intense pink diamond that drew the highest price ever paid for any gemstone at auction: $46 million (November 2010)




As with the Wittelsbach blue diamond, all of these major stones were entrusted to GIA for grading.

Why? It's the Global Market, Rarity of Top Gems and Wealthy Individuals.

Auction house executives and industry observers agree on a number of reasons why such diamonds can achieve record prices during a period of economic hardship: the international reach of the auction houses; the rarity of top gems and the greater number of private buyers going to auction.

On the first point, whether conducted in the main centers of Geneva, New York or Hong Kong, auctions now attract a worldwide clientele.

Indeed, Hong Kong, a niche venue a decade ago that specialized in jade and Chinese art, was Christie's leading jewelry sales location in 2009 and 2010. In addition to the above-mentioned 5 carat Vivid pink, a 5.16-carat Fancy Vivid blue, internally flawless diamond sold for $6.14 million. Many of the top lot buyers were Chinese business people venturing internationally for the first time.

The Geneva and New York sales also turned in record numbers. Sotheby's Nov. 16, 2010 Geneva auction, which featured that $46 million pink diamond, was the first jewelry auction ever to top $100 million total. The renowned London jeweler Laurence Graff bought that legendary pink, but other lots went to buyers from 30 countries.

The Bulgari Blue, which included a triangular-cut 10.95 carat Fancy Vivid blue diamond, went to an Asian buyer for $15.7 million after a spirited battle between several bidders at Christie's Oct. 20, 2010 New York sale.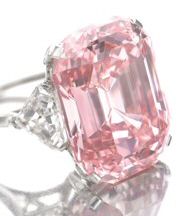 This 24.78 carat Fancy Intense
pink drew the highest price 
ever paid for any gemstone at
auction: $46 million
And Sotheby's New York sale in December 2010 sold 100 percent and brought in $53.2 million. All of its top 10 lots, which were diamonds, sold for more than $1 million each.
 A second reason for the auction houses' success is the perceived rarity of these top diamonds, especially fancy colored blues and pinks. Of the millions of diamonds mined each year, only .001 percent can qualify as fancy colors and only a handful can achieve the top grades of Intense and Vivid. An even smaller percent are larger than one carat, let alone five carats. So the auction houses deal in true rarities, whether newly mined diamonds or historical stones like the Wittelsbach, which was owned by Bavarian royalty and traced back almost 400 years to Moghul India.
A third reason is the rise of the individual buyer. In the past, dealers were the majority of top-lot buyers at jewelry auctions. Today, individuals account for more than half of such sales. Auction house executives say these buyers range from collector-connoisseurs who seek the very best stones, to investors who believe their extreme rarity, coupled with rising demand, will continue to push up the value. 
"In this new climate, large colored and colorless diamonds, rare gemstones, and signed jewels are attracting an ever-expanding community of collectors and investors from around the world," François Curiel, international head of Christie's jewelry department, noted recently.
There is a chance the Wittelsbach diamond may have another go at the record books. Graff, who also purchased that $46 million pink diamond (mentioned above), had the Wittelsbach recut down to 31.06 carats to improve its color, clarity and symmetry. He sent it back to GIA for grading nearly a year after he purchased it. The diamond, renamed the Wittelsbach-Graff, is now graded Fancy Deep blue and the clarity was improved to internally flawless. It is unlikely that Graff will sell the famed diamond at auction, preferring instead to meet his clients in the privacy of his New Bond Street salon.
Step into the mesmerizing world of natural Pink diamonds, synonymous of elegance and sophistication. These exquisite gems have stolen the spotlight in the realm of fine jewelry, captivating the hearts of fashion enthusiasts around the globe. 
In this article, we'll explore the enchanting features of Fancy Pink diamonds, uncovering their origins, possible tones, and the growing fascination around them. As we delve into their unique characteristics, you'll learn how they compare to other popular pink gemstones, revealing the distinct advantages that set them apart.
The Origin Of Their Mesmerising Hues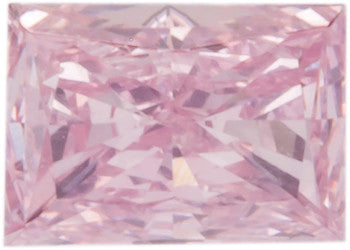 0.11 ct Radiant Pink VS diamond.
Fancy Pink diamonds are the result of a remarkable geological process that lasted millions of years. During their formation process, atomic traces of minerals such as hydrogen, nitrogen, or boron were introduced into their crystalline structure, resulting in impressive hues.
However, another scientific theory states that the pink hue comes from a deformation in the crystal lattice of the stone, a phenomenon caused by extreme pressure.
Whichever the cause, thanks to our Earth's natural transformations, today we get to enjoy the exceptional shades of Pink diamonds.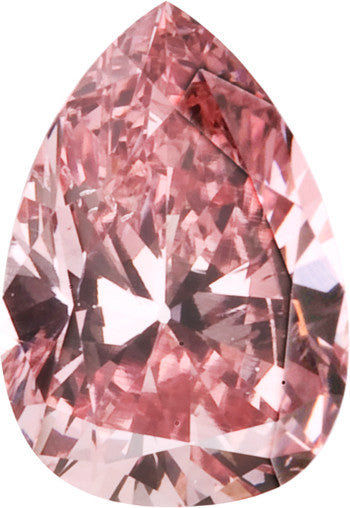 0.22 ct Pear Pink diamond from Argyle, Australia.
From delicate pastel tones reminiscent of blooming cherry blossoms to intense, vivid shades that command attention, natural Pink diamonds offer a diverse palette of hues that ignite the imagination.
Rarity And A Growing Fascination
The allure of these unique stones lies not only in their enchanting beauty but also in their rarity.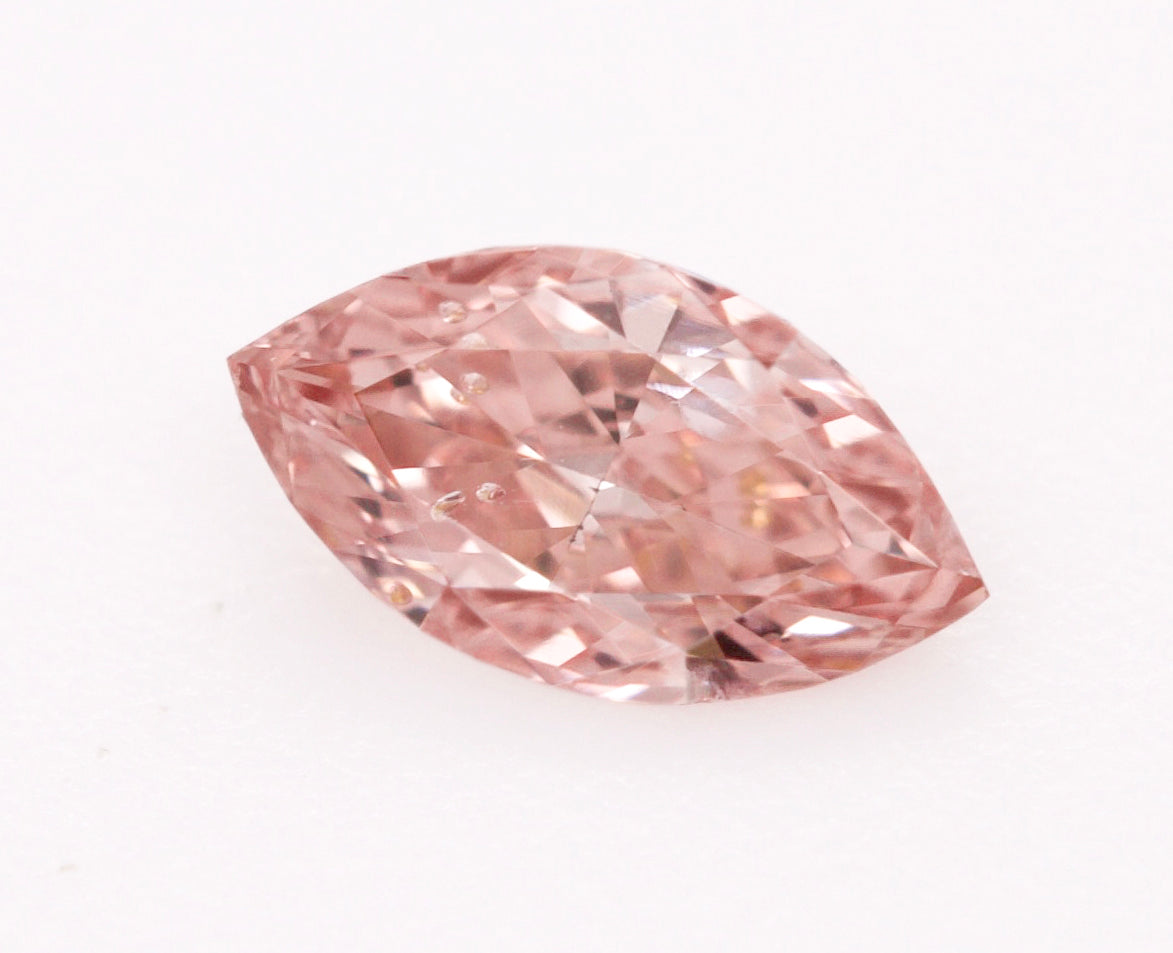 0.13 ct Marquise Rosé VS2 diamond from Argyle, Australia.
As luxury enthusiasts and jewelry connoisseurs seek to come in possession of the most exclusive and coveted pieces, the interest surrounding fancy pink diamonds continues to grow. With the recent closure of the renowned Argyle mine in Australia, a significant source of Pink diamonds, their scarcity has skyrocketed.
Pink Diamond's Unparalleled Properties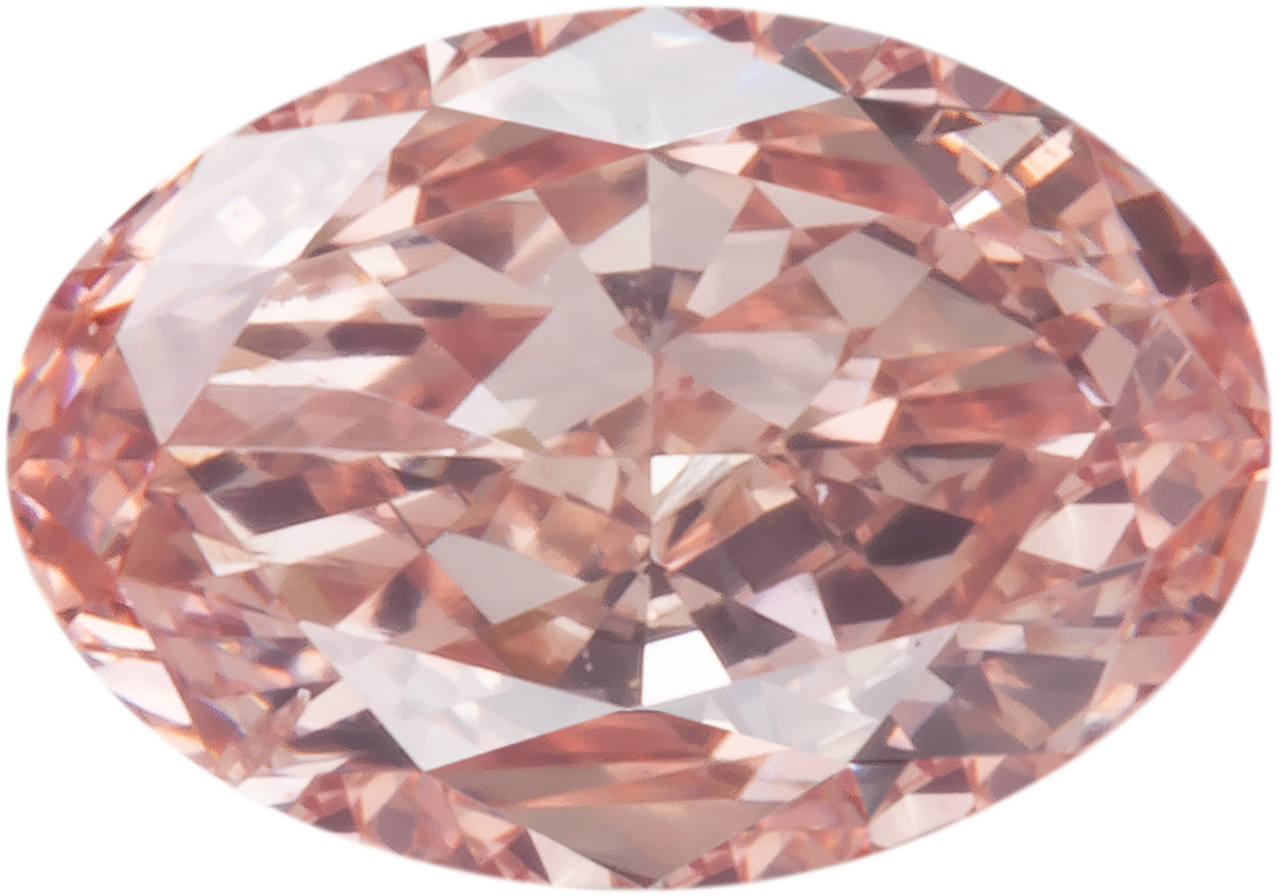 0.32 ct Oval Pink diamond from Argyle, Australia.
Brilliance
The refractive index of a diamond is approximately 2.42. This high refractive index is one of the factors that contribute to the exceptional brilliance and sparkle that diamonds are renowned for. The high refractive index allows diamonds to bend and reflect light in a way that creates maximum dispersion and brilliance, resulting in their captivating play of light and fire. It is this unique optical property that sets diamonds apart from other gemstones and contributes to their timeless allure and desirability.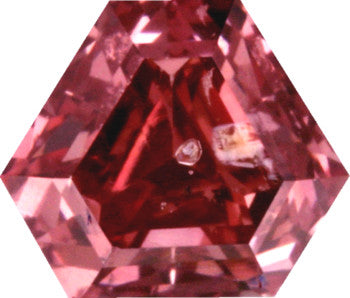 0.35 carat Trapezoid Step-Cut Raspberry diamond with GIA report.
Hardness
Diamonds are renowned for their exceptional hardness, ranking 10 on the Mohs scale, which is the highest possible rating. This remarkable property makes diamonds highly resistant to scratching and abrasion, ensuring their longevity and durability even with daily wear.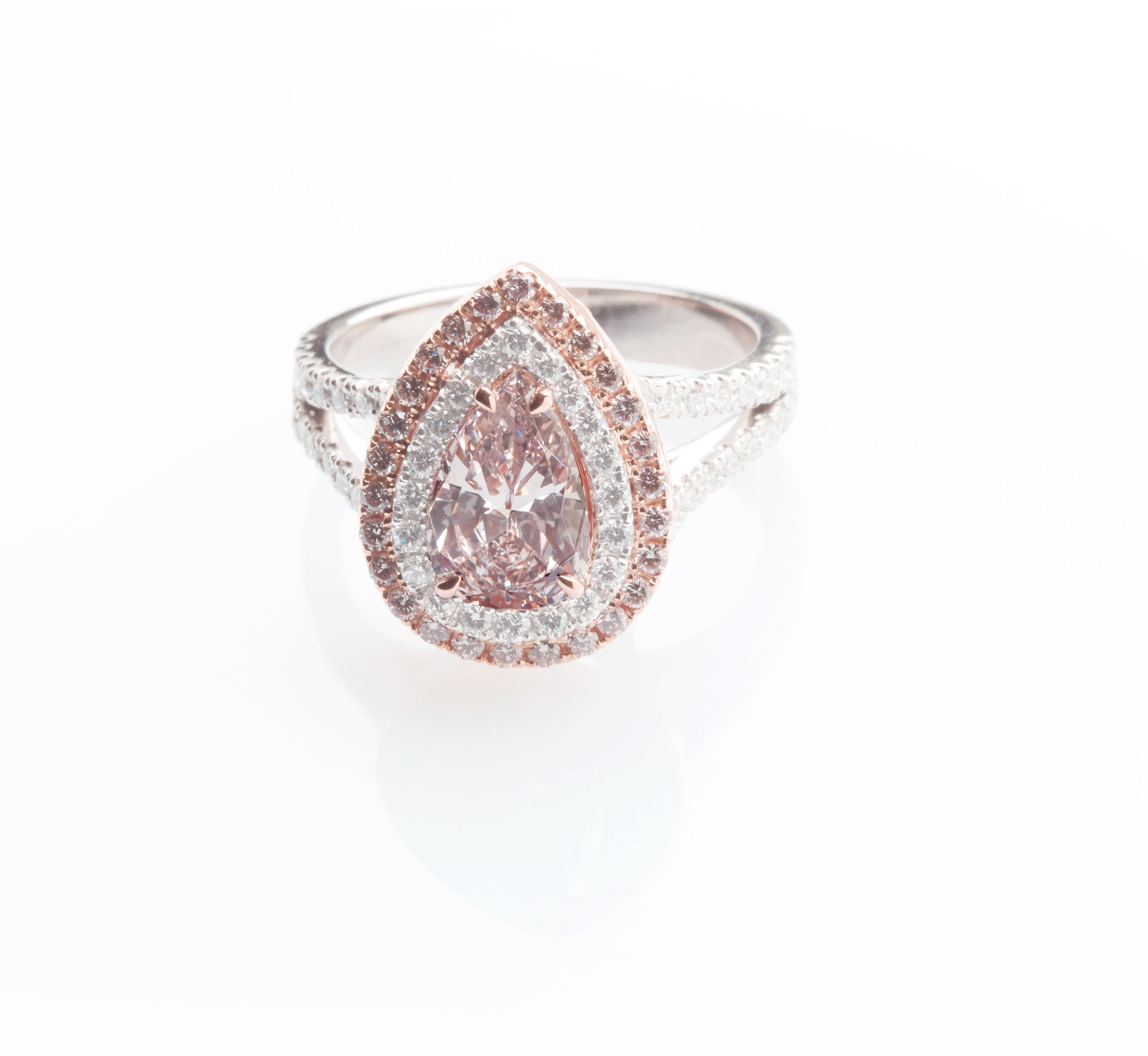 Pear-shaped Pink diamond ring with double halo.
The hardness of a diamond contributes significantly to its value. Diamonds are prized for their ability to withstand the rigors of everyday use without losing their beauty or succumbing to damage. This durability ensures that diamond jewelry, such as engagement rings and heavily worn pieces, can be cherished forever and passed down through generations.
What About Other Pink Gemstones?
Tourmaline
This pink gemstone is often used in jewelry for its vibrant color. Pink tourmaline can be found in various parts of the world, including Brazil, Afghanistan, Mozambique, and the United States. Each location may produce unique variations in color and quality, making it more complicated for the regular customer to understand how to measure and compare characteristics.
Tourmaline ranks 7 to 7.5 on the Mohs' scale of hardness, making it moderately durable, but relatively softer compared to Pink diamonds. With a refractive index between 1.624 and 1.644, pink tourmaline exhibits a good amount of brilliance and light dispersion.
Pink quartz
This mineral showcases a soft, delicate pink hue that does not typically offer much sparkle. There are multiple levels of transparency available, from very translucent to milky opaque or smoky with yellow or brown undertones.
Scoring a 7 on the Mohs scale, pink quartz is relatively durable and suitable for some types of jewelry. However, it is still important to protect it from impact, and best suitable for earrings and low-wear pieces.
Pink Sapphire
The intensity of its color depends on the place of origin and the combination of trace elements present within its crystal structure.
With a hardness of 9 on the Mohs scale, pink sapphires are very durable and resistant, making them suitable for all kinds of jewelry pieces. However, they are more prone to scratches than diamonds.
Kunzite
Kunzite is quite affordable because it's relatively unknown although it can be found in many places like Afghanistan, Brazil, Madagascar, and the USA.
Like most color stones, kunzite can be undergo irradiation or heat treatments to enhance its color. Exposure to heat and bright light can cause color in both natural and treated kunzite to fade over time.
Morganite
Most morganite deposits are found in Brazil, but the highest quality specimens come from Madagascar. Typically, morganite enjoys a high transparency with minimal inclusions resulting in clear, polished stones.
Scoring a 7.5 to 8 on the Mohs scale, Morganite is safe and durable enough for jewelry.
Your Best Choice: Pink Diamonds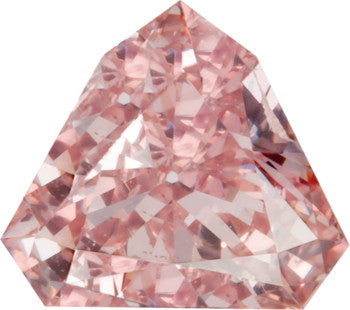 0.29 ct Shield cut Pink diamond from Argyle, Australia
There are multiple options to choose from to create a jewel with pink gemstones. However, they all fall short when compared to the durability and brilliance of natural Pink diamonds. With sources becoming more scarce while demand continues grows, Pink diamonds keep appreciating in value making them a better financial choice when compared to other gemstones which tend to loose value in the resale marker. Pink diamonds present multiple advantages for their investment potential and as a valuable asset to be passed on for generations.
Emerald cut Burgundy diamond set in a ring with channel-set and pavé-set white diamonds.
When purchasing color gemstones, it's important the buyer requests a professional laboratory report that discloses any enhancements to make an informed decision. Unfortunately for most consumers, it's hard to find full-detailed information on a finished jewelry piece and it requires additional effort and inquiries to confirm the quality of a gemstone.
—
Langerman Diamonds has over 50 years of expertise in sourcing and trading natural color diamonds. Explore our online inventory and contact us to learn more about the purchasing process.