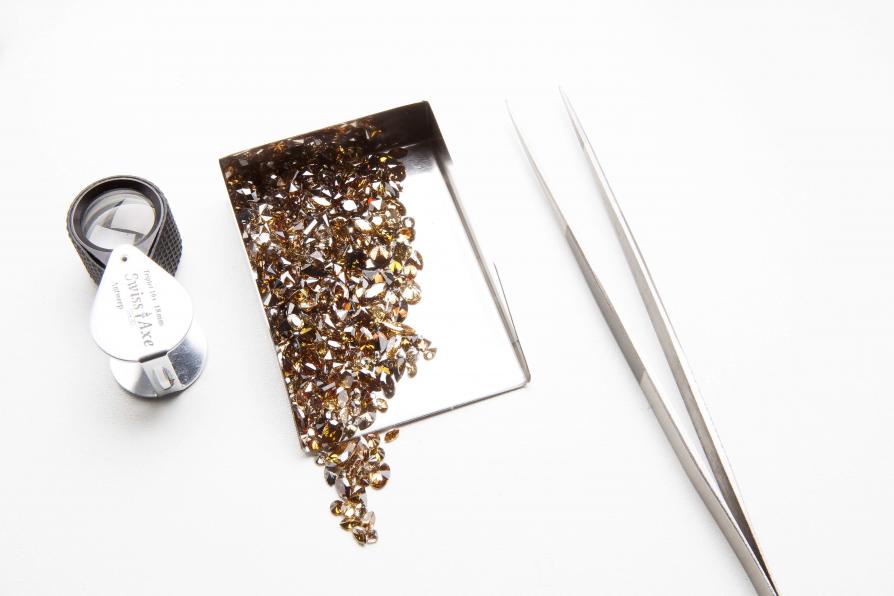 Low temperatures, shorter days, and snowy landscapes influence our association of winter with cool tones. Muted hues and icy colors capture the essence of the coldest time of the year.
The natural palette of each season can be a great source of inspiration for jewelry designers. Winter collections present an opportunity to focus on white gold pieces and incorporate natural color diamonds with blue or gray undertones.
Whether you're looking for ideas to commission a custom piece or are a seasoned jeweler looking for unique stones to highlight your latest designs, you will find inspiration in our Fancy diamonds selection. We have put together a colorful mix of exceptional, natural color diamonds of winter-perfect hues.
Snowy Grays
Jewelers know that with winter comes the engagement season, a period from November to February where engagement ring sales see their highest spike.
Fancy Gray diamonds have a beautiful look that reminds of frozen lakes and icy snow, and they are a popular choice for alternative engagement rings. Maybe it's their easy-to-style neutral color or their gorgeous silvery sparkle; there's something captivating about Gray diamonds.
For its timeless classic design, the diamond solitaire takes the title of the most popular style. The 1.00 ct Round cut is the most sought-after diamond for this type of setting, and this Fancy Gray from the Argyle mine in Australia is perfect for it.
The natural Silver diamond below has alluring proportions that soften the Pear cut. We imagine an extraordinary ring or pendant necklace crafted with this outstanding 3.91 ct diamond. The VS clarity stone comes with a GIA report.
In recent years, Oval cut diamonds have also enjoyed more popularity. They are a fantastic choice for modern solitaires. The following 0.15ct Oval cut diamond sports a natural grayish blue color we have named Steel. The elongated shape of this cool-toned stone offers some design versatility, following a traditional setting or a trendy, East-West orientation.
Square cuts, like the cut-cornered Sky diamond below, are often selected for Art Deco-inspired designs. This stone features a modified brilliant cut for extra sparkles.
Sparkling Bubbles
From rosé mulled wine to champagne toasts, this season celebrates different drinking traditions around the world. And in their honor, we've selected some unique, natural color diamonds.
Cut in a modern Trillion shape, this incredible 1.12 ct diamond comes from the famous Argyle mine in Australia. Old Rose is the Langerman name for the natural color of this stunning stone.
Another Argyle Fancy Pink diamond, this extraordinary stone stands out for its unusual Shield cut that combines Step and Brilliant features. The sharp lines of this 1.22 ct diamond are slightly reminiscent of fractal snowflake shapes.
The intense hue of this Raspberry diamond is highlighted by a Radiant square cut. The 0.84 ct stone is also a coveted Argyle, Australian specimen.
More subtle than Yellows and less saturated than Browns, Champagne diamonds are a must for delicate designs. Set this 0.83 ct Cushion cut on yellow gold for a monochromatic look.
Twinkling Lights
From festive lights to candles and fireplaces, warm colors such as yellow and orange are often present in our homes to cozy up during the coldest season.
This Fancy Yellow Orange diamond is an excellent example of a winter yellow. The brilliant 0.12 ct stone can add a colorful accent to a cluster design.
This 2.56ct Bronze diamond is a one-of-a-kind stone that will be the center star of any design. And we mean this quite literally; the facets of the Octagonal cut create a six-pointed star shape when observed from the top.
Midnight Purples
Perhaps it's the color's association with mystery or fantasy, but purple is often the preferred pigment to portray cold nights in paintings and artwork. Since shorter days are another winter peculiarity, we've selected a couple of fabulous Purple diamonds to complete this seasonal mood board.
This GIA certified Purple diamond will be a wonderful addition to your collection. The Round cut stone weighs 0.16 ct making it perfect for a stacking ring.
The romantic teardrop shape of this 0.21 ct Lavender diamond makes it perfect for a dainty pendant necklace or a delicate ring.
Please contact us to inquire about these diamonds and discover other unique options for your designs.