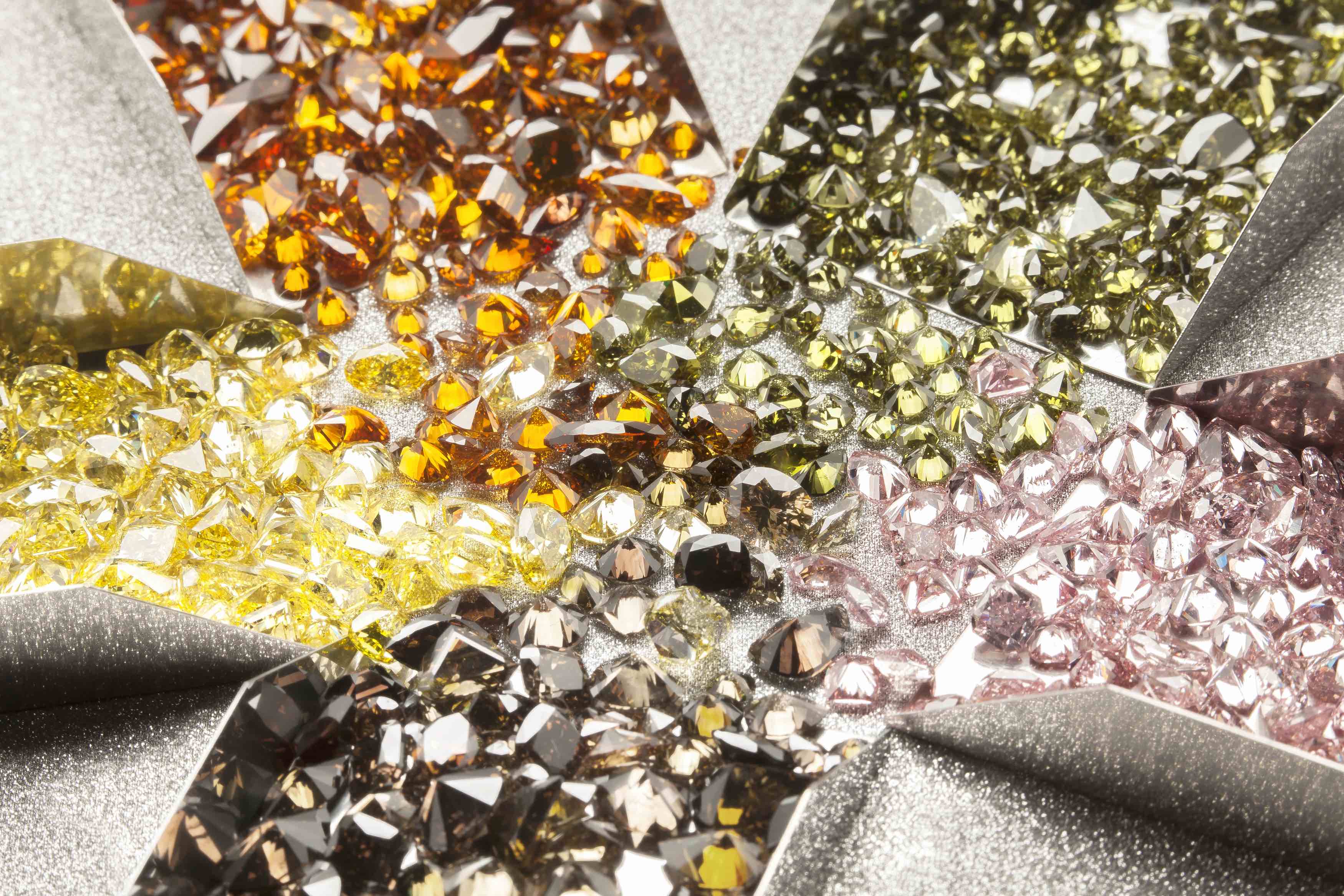 Gone are the days of bulky winter jackets and muted tones. Spring is finally here; the warmer weather and blooming flowers bring an undeniable sense of renewal and positivity. This new-found energy is reflected not only in our attitudes, but also in our wardrobe selection.
With the arrival of Spring, fashion takes a turn towards a more colorful and vibrant direction, more carefree and playful. Wearing fewer layers and lighter fabrics, our accessories take center stage and shine through on sunny days.
Diamond jewelry is often associated with colorless diamonds, which are easy to style and elegant. However, this sophistication is elevated to new heights when the rich hues of Fancy color diamonds are thrown into the mix. And what better way to celebrate the new season than with the expressiveness of natural color diamonds?
At Langerman Diamonds, we've collected, cut, polished, and named natural color diamonds for over 50 years, identifying over 300 unique hues. That sounds like an intimidating number of possibilities already, and adding to it, there are multiple shapes and sizes available. That's virtually infinite options for one-of-a-kind designs.
Don't know where to start? Dainty is the name of the game, and melee diamonds are the way.
What are Melee Diamonds?
Melee diamonds are very small round cut diamonds—typically 0.01 to 0.08 carats in size—that are often used in pavé designs to enhance the beauty of a center stone or to create a hypnotic glittering effect.
Fancy color melee diamonds are an excellent option to add bright, tiny accents to fine jewelry pieces and introduce brilliant pops of color.
3 Ways to Use Fancy Color Melee Diamonds
Here are three creative ways to infuse your fine jewelry designs with the vibrant notes of our colorful melee diamonds.
1. Ombré Jewelry
A selection of Brown diamonds in an ombré layout
Ombré designs are characterized by a gradual transition of color, often from light to dark or from one color to another. To create a successful effect, select a color that offers multiple tonalities to pick from. Designs featuring a range of Pink, Yellow, or Brown diamonds going from light to dark are viable options.

Various tones of Pink melee diamonds
For a feminine, ombré piece, we recommend a progression including our Baby Pink, Old Rose, Burgundy, and Intense Pink diamonds. 
Our Vanilla, Jonquille, Canary and Saffron diamonds are the perfect choice for a sunshine-filled design.
Another interesting and luxurious combination could include our Champagne, Cinnamon, and Chocolate melee diamonds.
2. Sweet Pastels
Pastels are another popular choice when it comes to natural color diamond jewelry. The soft, delicate hues of our Lilac, Lime, and Sky diamonds are excellent choices for a candy-inspired piece. 
This exceptional, pear-cut Pink diamond is accentuated by a design covered in matching Pink melee diamonds
3. Opposites Attract
Complementary colors are opposite on the color wheel, such as blue and orange or yellow and purple. When used together, these colors create a striking and eye-catching effect that will make your jewelry stand out even more.
This bespoke necklace features a Fancy Green brilliant cut diamond in a double halo setting with Fancy Pink melee diamonds
Setting Fancy Color Melee Diamonds
Pavé the way 
One of the most popular ways to incorporate melee diamonds is through pavé settings. These settings involve multiple small diamonds set closely together, creating a surface of glitter and sparkle.
Bespoke necklace with pavé-set Champagne diamonds 
Channel your favorite colors
Another way to use melee diamonds is with channel settings. Mostly seen in rings, channel settings have hidden rails used to create a prong-less, seamless row of sparkling diamonds.
Divine Halos
Color diamond halos offer the opportunity to be creative and play with contrasting or blending in with the center stone.
Pear cut Pink diamond ring with a double halo featuring White and matching Pink diamond
A Flush of Uniqueness
Flush-setting melee diamonds is an excellent alternative to a full pavé design. This technique involves setting the stones flushed into the metal. Varying carat weights is a fantastic way to create a scattered and organic look, resulting in a one-of-a-kind piece of jewelry.
Langerman Jewels: The Line Collection
You don't have to be a jewelry designer to enjoy the vivid hues of our natural color melee diamonds. With The Line collection, our goal is to present luxurious yet versatile pieces that can transition from casual to evening looks and are easy to personalize with your favorite color diamonds. 
The Line Collection is composed of earrings,necklace, eternity rings,and tennis bracelet for you to choose from. Select one out of the ten available color diamonds and complete the piece with your choice of 18k rose, yellow, or white gold. Mix and match the diamond colors and gold allloys to create your a jewel with your favorite combination. 
—
Personalize a piece from the Line collection, or contact us to learn more about our color melee diamonds.