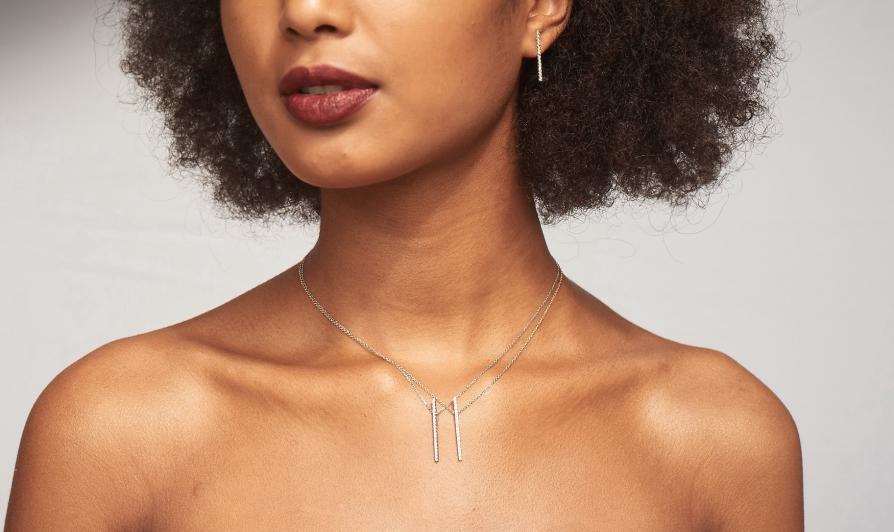 Necklace layering took off as an instagram-fueled trend with it-girls and celebrities like Rihanna, Gigi Hadid, and Hailey Bieber leading the way and reminding us that, sometimes, more is just more. Chunky and delicate chains, varying lengths, and mixed metals; the versatility of layering allows the wearer to express their own fashion sense by creating original combinations.
Layering necklaces, isn't anything new, though. The last sighting of the maximalist trend was back in the 1990s when Grunge fans and musicians started combining different chains. But on this latest revival, layered looks have evolved from urban styles to contemporary luxury and made their way into fine jewelry with diamond necklaces bringing a modern flair of sophistication.
In this guide, you'll find: 
Diamond necklaces for your stacking repertoire
Four key tips to create the ultimate layered look.
The Solitaire Diamond Necklace
The solitaire necklace is one of the most versatile styles. The traditional design is nowadays considered a staple for creating the perfect layered look.
Add a pop of color to your necklace mix and select a bold hue like Raspberry or Lime for your diamond solitaire. If you incline towards yellow gold jewelry, opt for a Bronze or a Champagne diamond; you'll love the warm neutral palette. 
And to match the coolness of a white gold collection, opt for silvery, blue, or cool undertones like that of our Turquoise diamonds. 
Don't be fooled by the clean design of a diamond solitaire necklace, with natural color diamonds you can infuse the composition with meaning by selecting colors that are associated with powerful attributes. 
Melee diamonds are perfect for adding a pavé halo to your solitaire design and incorporating one or more tones to help you convey your unique story.
A Shimmery Diamond Disc Pendant
People turn to understated and dainty pieces when looking to bring a note of sophistication to their everyday outfits. A petite disc necklace can still have a luxurious look when it's covered in color diamonds.
The circular shape becomes the ideal canvas to set your stones creatively, in a flush or pavé setting, or arrange them by color to create an ombré or rainbow effect.
A disc pendant necklace is typically styled as a middle layer, in between your shortest and your longest necklace. However, if your diamond medallion is larger than average, you can wear it on a long chain to make sure it won't be competing with other charms and elements on the mid layers but rather become the final tier of your look.
Medallion necklace crafted in 18kt rose gold with Champagne diamonds in a pavé setting
Add Texture With A Beaded Necklace
No jewelry stack is complete without a textural accent. Hammered finishes or sculptural shapes are excellent options but diamond beads are the ultimate chunky necklace; providing not only an interesting visual contrast but dimension and sparkle.
The Luxurious Touch: Tennis Necklace
Since growing in popularity in its bracelet form, the tennis style has become highly sought-after as a necklace. 
Carefully selected 64 natural color diamonds of 1.00 carat and above ranging from Champagne to Dark Brown for a luxurious ombré effect.
No longer reserved for gala nights and formal events, the diamond tennis necklace can now double as a daytime statement piece. When stacked with other necklaces it contributes to a fancy, elegant yet less formal and more modern style. 
Your Signature Shapes
The initial of your last name, a star, or any other symbol close to your heart deserves to be part of your necklace stack. Add your signature shapes to your layers for a personal touch.
Build a Layered Look in 3 Steps
Layering or stacking is here to stay, but finding the right pieces to create a harmonious look doesn't always come easy.
Here are four steps to create the ultimate necklace layers.
1. Start with a dainty piece
This can be in the form of a delicate chain or a short necklace. Not every piece has to be sparkly, but little pavé accents or a bar encrusted with diamonds are an excellent starting piece.
2. Add a lengthy chain
Maybe the most important aspect of stacking is taking the  length of the pieces  into consideration. You want all your necklaces to be visible and create a cascading effect. Pick a lengthy necklace to determine how many more you'll need to fill the gap between your shortest and longest necklaces.
3. The statement necklace
A collection of chains adjusted at varying lengths doesn't necessarily translate to a cohesive look. There needs to be a focus point. A diamond solitaire, a pendant, or an oversized charm are all ways to highlight one particular necklace and make it stand out.
Optional:
4. A contrasting accent
Three pieces are enough to create a stacked style but if you want to take it to the next level, incorporating a piece that creates contrast will add depth to your look. Contrast can be created by choosing a necklace of a different gold tone, selecting natural color diamonds of complementary hues, or even mixing high-polished with hammered or brushed finished jewelry.
Rough Burgundy Pink will create contrast while adding texture and color to your stack